HIV Positive Campaign

To share your experiences of wearing your HIV POSITIVE T-shirt, please complete this brief anonymous online survey. Have an interesting story? Contact us and let us hear about it! We'll publish your experiences here.
Following the success of Wake Up Pune's annual star-studded HIV awareness events held during the Global AIDS Week of Action (past performers have included popular artists such as Abhijit Sawant, Amit Sana, Sandeep Acharya, Himani Kapoor and Rehan Khan), the Wake Up Pune campaign is asking people to take the lead and be 'HIV POSITIVE'. What does this mean?
Positive about Education – educating ourselves and others about HIV and AIDS
Positive about Awareness – raising awareness in our wider community
Positive about Support – reaching out to people living with and affected by HIV and AIDS
Through 'Pune: An HIV Positive City', Wake Up Pune aims to challenge the stigma and discrimination so often faced by people living with HIV (PLHIV).
See the 'Be HIV Positive' music video below – specially written for Wake Up Pune by legendary Scottish band Herman Death Willy Tail!
href="http://www.youtube.com/watch?v=Y_R5EXhoNcQ">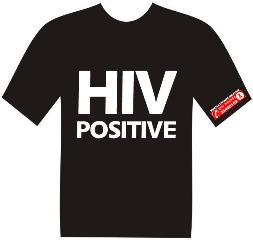 For the past couple of years, volunteers wearing 'HIV POSITIVE' T-shirts have become a common sight in the city. By wearing these T-shirts, volunteers identify themselves as part of the solution in tackling stigma surrounding HIV, rather than being part of the problem. T-shirts will be made freely available to people who want to take the lead in educating society about HIV and AIDS.
The HIV Positive City initiative has several key aims:
1) Raise awareness about HIV through dialogue between T-shirt wearers and those around them. We have found that people will ask questions when confronted with a clear statement such as this one. The T-shirt will prompt our friends, family and even strangers to ask questions about HIV.
2) Reduce stigma and discrimination surrounding HIV; because of stigma and discrimination, people are afraid to even talk about HIV, let alone find out the information they need to protect themselves. The more people that are positive about Education, Awareness and Support, the better.
3) Show solidarity with PLHIV; by wearing the T-shirt we can show support and understanding for PLHIV. This encourages more people to come forward for testing and treatment services.
4) Challenge stereotypes about PLHIV; particularly that all PLHIV look sick or are dying. In reality, a person living with HIV can look and feel as healthy as anybody else, as long as they learn to manage their infection correctly.
An opportunity to 'Take The Lead'
We want to see this T-shirt all over the streets of Pune, encouraging people to think about their attitudes towards their fellow citizens living with HIV. Pune needs to WAKE UP to the reality of the HIV epidemic facing this city.
We want to see the T-Shirts being worn by students, business people, activists, poor people, rich people, young and old: people from all walks of life. HIV affects everyone. Perhaps even more importantly, we all have the capacity to be a part of positive change. It is our vision to have these shirts spread throughout the population of Pune, and along with them the crucial message of the Wake Up Pune campaign: 'Be HIV Positive.'
Some experiences from T-shirt wearers
"At a shoe store in the city, the salesman asked me whether I was trying to scare away my friends away or not. At first I was confused, and looked at him for further explanation, to which he pointed at my T-shirt. I smiled, and told him that I am positive about awareness, education and support, and that I am working to decrease stigma and discrimination of PLHV in Pune. He quickly agreed, and said that was good, and I invited him to the Candlelight Vigil on M.G. Road."
Aleefia Somji, volunteer

"I was recently in a restroom of a cinema wearing the HIV Positive T-shirt. A woman came next to me with an almost horrified and angry look on her face and asked me whether I was HIV positive. I tried to explain to her but she went on: 'This is a ladies restroom. How can you come in here? It's bad enough you have to be all over this mall. But the restroom? That's going too far,' she added. I couldn't believe the conversation. This proves the need for people to 'wake up', be aware and know the truth."
Gayatri Natrajan, Wake Up Pune coordinator
"The moment I put on that T-shirt which read HIV POSITIVE, I felt alienated. I realised that people started looking at me with questioning eyes. It was then that I really felt the stigma that an HIV+ person goes through. That's when I realised why PLHIV hide the fact that they're positive.
And then I realised that it's not about HIV. It's not about AIDS.
People don't care if you have a disease. But the moment you mention HIV, it's your morals that are questioned. The point is not that you have HIV. The point becomes- how you got it. And since people's knowledge levels on the topic are so low, people automatically assume that if you're HIV+, you've been sleeping around with many people. And that's what people are close minded about. The moment you mention HIV, people relate it only to sex and how the virus is transmitted.
They don't want to be normal with someone whose 'morals' aren't right, and they think that someone who has HIV has no morals. That's the pathetic thought process that people have. And that's what we need to change."
Aakriti, AIESEC volunteer

"Right from the moment we got the HIV POSITIVE T-shirts at Boot Camp, i knew we were going to get some awesome reactions to them. Well, I for one wasn't disappointed.
The very next day, all psyched up about Wake Up Pune, I put my HIV T-shirt on and got ready to leave for college. Mum walks into the room and goes, "Where the hell do you think you're going wearing that? What is it supposed to mean, anyway?" So I calmly explained to her about our EAS mantra . To be very honest, she didn't exactly jump around for joy or do a little happy-dance like I do sometimes, she was just about OK with me wearing it. For the time being, anyway.
In my class at college, people couldn't believe what they were seeing. They're a bunch of nerds studying computer science, they hardly get out of hiding behind their books, so they were wondering what'd hit the real world when they finally looked up! One of my more 'brave' classmates mustered up the nerve to ask me to turn to face her because she couldn't read the slogan properly. When she did, she got this sombre expression on her face, and all seriously, looked away without saying another word. So I asked her, 'Aren't you going to ask me what it means?'
She looked stricken, and replied, 'No way, I know what that means.'
'So if I'm HIV positive, you don't mind sitting next to me in class, do you? We'll do lunch together later, and go over some of our programming assignments too.'
The poor girl looked so entirely afraid of me, like I was going to eat her up!! Then I cleared her doubts up by explaining that there are only 4 ways of transmission, etc etc, and even if I were HIV positive, it would still be perfectly safe for us to hang out together. The rest of the day was spent going over this with the rest of my classmates between lectures. They were surprisingly receptive though (in contrast to their earlier reactions), really wanted to know more.
The feedback I got wasn't all negative, though. There were people who made it a point to walk up to me and say, 'We're HIV Positive too!' There were people who wanted to know what they could do to make a difference. One of my old professors saw me and immediately asked me if I could give her posters and pamphlets of Wake Up Pune, she wanted to put them up and circulate them amongst the student population, and she also had a bunch of students interested in taking part in one of the projects.
Then a couple of weeks ago, I was at college and in a dilemma because being the head of the music society, I had to put up an important notice about auditions for our next event, and the main notice board had these admission lists all over it. Since I had a bit of time on my hands (for once!) I decided to personally go to all the big classes and announce the audition details. Relevant part is, I had my HIV +ve shirt on, so I was bombarded with a million questions and comments about it. While I was passing by, one guy actually said to his friends,
'Oh my god, HIV positive!! That's so dangerous!'
So you can imagine the amount of common myths and misconceptions that were dispelled that day. Another guy came up to me and on the pretext of asking me where the botany department is, as an afterthought, quizzed me about my shirt. What struck me was, why do people have to beat about the bush when it comes to this? Is it embarrassment with regard to raising the topic? Or are they just shy? I mean, this guy is all around college, all the time, there's no way he didn't know where the botany department was. And anyway, I was pretty sure it was just a dare one of his friends sitting close by had given him. Is it considered 'daring' to talk about HIV? This is what we are up against, guys. People must feel free about talking about HIV. The more you talk, the more you know, the less you discriminate, the lesser chance there is of you getting the virus itself. I wear my HIV Positive T-shirt as much as I can, so that in this lifetime at least, I can spread as many facts as possible. "
Kamakshi, volunteer and Bootcamper
"While I was working to promote the HIV Bootcamp at the Adlabs movie theatre I was of course wearing my HIV Positive T-shirt. Since we were working the entire day I took an hour break to walk around Koregon Park to buy some gifts and recharge my phone. I walked into one of the mobile phone stores on the main road. The store was empty and two young men were sitting at the counter. One of the men stared at my shirt and asked, 'Can you tell if someone is really HIV Positive?'
I smiled and asked him if I looked HIV positive. He responded quickly saying "No, of course not – you're white."
I was a little taken aback by this statement so I had to think about how I was going to answer him. I almost told him that in fact I was HIV positive, but lying is never a good thing so I stayed about from that path. Instead I told him that everyone can get HIV, the disease does not discriminate. There is a huge problem in the US as well.
After I finished educating both men about what HIV Positive on my shirt really means, the four ways the disease can be transmitted and how they can protect themselves I left the store. I was glad that the man spoke up because at least now he is accurately informed about HIV. "
Meredith, Deep Griha Society volunteer

"Contrary to the notion prevalent in the society regarding HIV/AIDS, the response I got for me being POSITIVE about HIV was an encouraging one.
People around me showed their interests in knowing the reason for me wearing the HIV T-Shirt. Consequently, they also showed great interests in being a part of this awareness campaign. Many realised the gravity of the situation based on their prior knowledge, with others only after a briefing by me on HIV/AIDS.
The T-shirt at least provided a reason to the people around me to talk about HIV/AIDS, increasing their curiosity to know more and subsequently making them HIV POSITIVE."
Anshuman, Satyam Foundation volunteer
"A friend was flying into Mumbai airport early one Saturday morning and three of us went to meet him wearing our 'HIV positive' T-shirts. However, our taxi completed the journey in record time, so we arrived at 4am and had a 3-hour wait.
As three girls wearing 'HIV positive' T-shirts we attracted quite a lot of attention as the passengers came through from their flights. Some people just pointed at our shirts and walked past looking slightly confused but quite a few people came up to us and asked if we were HIV positive, giving us the opportunity to explain that we're positive about education, awareness and support. And it wasn't just the people that we were speaking to who were discussing HIV, when their friends joined them it was clear that they were continuing the discussion in Marathi.
One man was particularly worried because two of his colleagues had recently contracted HIV and he wanted information about treatment for the virus. From the reactions that we received it's evident that there is still a lot of stigma surrounding HIV, but wearing the T-shirt was a great way to generate dialogue about the virus and to start to break down the damaging myths."
Sam, volunteer