HIV Worldwide
What is the situation of HIV/AIDS globally?
Every 12 seconds, another person contracts HIV. A parent, a child, a friend, a colleague.

By the end of 2010, World Health Organisation (WHO) reported that 34 million people worldwide are living with HIV. The virus has emerged as the most devastating epidemic in history and AIDS is the leading cause of death for adults aged 15-49.
UNAIDS gathered information at the end of 2009 about the global scale of AIDS and HIV: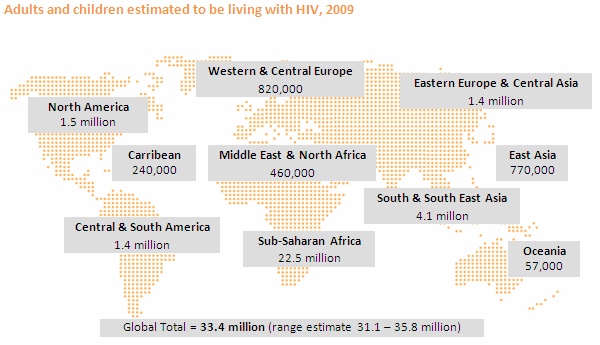 The number of people receiving treatment has however increased (from 7%
in 2003 to 42% in 2008) which is reflected in the continuing rise of people living with HIV.
The number of new cases in 2008 was also lower than in previous years, hopefully the result of increased awareness.
HIV is nevertheless still on the rise in many parts of the world and still killing many. In 2008, around 2 million men, women and children lost their lives to what is actually a preventable, treatable condition.
In the time it has taken you to read this page, another person will have become infected.
Do something about it. Join the fight.
Download the latest UNAIDS Report (2009) here.