On Saturday, 15th June and Monday, 17th June 2013 WUP organized some of our well-known questionnaire events.
Saturday we went to get in touch with the customers of Prem's restaurant, KP. The response was quite positive and we received a …
On May 13th, Wake Up Pune volunteers set up a live installation at Pune railway station. The objective was to catch the crowd's attention through a scene illustrating the stigma that can be observed towards people living with HIV/AIDS.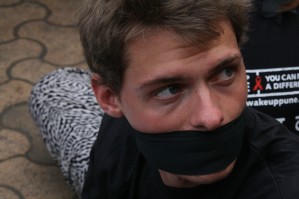 Some …
Join us during the Global AIDS week of action (GAWA) 2013!
Get involved

in the fight against HIV and AIDS and take part in our activities:
Monday 13 May    
5 – 7 PM:Live installation, Pune railway station…