Matrimony makes world go round
DNA correspondent for DNA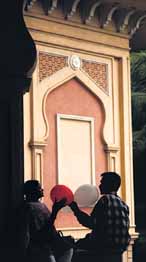 Manoj, an HIV-positive man, lost his wife to the infection 6 years ago. Anita, another HIV-positive, was living alone with her 5-year-old son since her husband's death. They met at the matrimonial event in August 2010 and got married in December 2011.
Since his marriage Manoj's CD4 count has gone up by 50%, while Anita has found a dependable soulmate in him. CD4 are white blood cells that fight infection. As the HIV virus gets into the cells and replicates, the number of CD4 cells in the blood drastically decline.
Both shared their experience with the participants of the matrimonial event for People Living With HIV (PLWH) held on Sunday. It was organised by Deep Griha Society and Santulan.
Manoj, who works as a security supervisor in the city said, "We are of different castes. I am an SSC pass while she is a graduate. But these differences do not matter. Even though I am not very educated I have a decent job and I can feed my family, while she is a very warm and understanding person. We are happy together."
At the event on Sunday Rishabh, who runs a business in Mangalwar Peth, met Swati from Pimpri-Chinchwad who is a beautician. Both had come with their parents and decided to tie the knot.
Rishabh lives in a joint family with three married brothers. Only his parents know about his medical condition. "We wish to see him settled and happy. I am happy that Rishabh and Swati liked each other," said Rishabh's mother, Kavita.
This is the second year that Deep Griha Society and Santulan organised the event. About 170 men and women took part from Maharashtra, Goa, Gujarat, Andhra Pradesh, Delhi and Nepal.
"Last year 150 people had taken part, 12 couples got engaged. This year too we are expecting similar results. These people are ostracised by society and it is difficult for them to find a life partner. We cannot deprive them of their right to marry," said Avinash Chakranarayan, who works with Deep Griha Society.
After the formal introduction in the morning, the participants took part in games and interactive programmes. A separate session was held for parents to inform them of what they should look for in a marital partner for their sons and daughters.