Past Events 2007
10 December 2007
Sensitisation Workshop on Human Rights of People Living With HIV/AIDS For Legal Practitioners and Social Workers in Pune
With the objective of raising greater public awareness and sensitivity and promoting targeted engagement with key stakeholders on a continued basis, Open Space (in collaboration with Wake Up Pune and the Sahayog Trust) presented a sensitisation workshop on 10 December (World Human Rights Day) for members of the legal fraternity in Pune City, including lawyers, judges and legal counselors interacting with PLHIV. The interactive workshop informed legal practitioners about the basics of HIV/AIDS and also explained good counseling practices. The workshop was facilitated by legal experts and senior members from the Wake Up Pune campaign.
4 December 2007
Festival of Life
On Tuesday 4 December, Sahara Aalhad Centre for Care and Rehabilitation, Wagholi, Pune, held the Festival of Life, as part of World AIDS Day 2007. The Festival of Life was hugely successful and drew a large number of people from all walks of life together, all associated with Sahara Aalhad and supportive of the work done in the fight against HIV/AIDS. Past and present clients and their family and friends, young and old, international volunteers and friends of Sahara Aalhad all came together in support.
The event itself was wonderfully varied and colourful with a range of activities put on for all present. Red ribbons were distributed and pinned to everyone as they arrived (even the dog Scamp had one!) and people were greeted with smiles all round, before being shown upstairs where the event was held, in a wonderfully decorated room full of Wake Up Pune banners and informative posters with information about HIV/AIDS. There were several moving and inspirational talks from a mixture of people associated with Sahara Aalhad including clients and care workers, both male and female. They discussed their own personal experiences with HIV/AIDS and Sahara Aalhad's major role in helping them though difficult times and conditions, stressing the supportive role played by the entire Sahara Aalhad staff and community.
Dr Pratima (Sahara's resident doctor) also gave an informative speech where she talked about Sahara in India, the different programmes throughout the country and what an important and irreplaceable role they played in the life of many people. These talks were interspersed by a wonderful selection of Hindi dances by children from Yerwada Outreach Centre, all dressed up beautifully in bright, colourful sarees with flowers in their hair, under the watchful eye of Anita (Outreach Worker).
There were also dances from individual children from the centre and from Yerwada OPD client's children to western music, and several Care Workers also put on a humorous skit/dance to music, much to the amusement of everybody present!
Two very moving short films were screened, both of which gave the unique opportunity to see from a child's perspective the impact of HIV/AIDS on children. The films were part of Plan India's 'Children Have Something to Say' project, where children are given the opportunity to write, direct and produce films based on their own personal experiences.
Throughout the day red roses were distributed to friends of Sahara Aalhad, who provide help and support. The chief guests were the Mehra family who have provided continuous support for Sahara Aalhad from the very start, and Mrs Mehra said a few touching words about the work done by Sahara Aalhad. The other friends and guests included CSR representatives Chaitrali and Gaytri from Xansa, Maria Julian and Anna Dragonette from the Little Flower School, Rohit Thomas (President of SSU), Mr and Mrs Thomas from Care Services, Hans Billimoria (Project Manager, DISHA), representatives from Deep Griha Society, Dr Khan from Mohal School, Rekha Maskhe (Social Worker from Wadogaon Sheri), Mrs Shakuntala from Saluke Vihar, Pune and also all the many Pune City friends who are always there to help. The programme for the day ran until lunchtime, when a massive banquet was served up on the terrace for all present. It brought a close to a wonderful day which was informative, moving but most of all inspirational and fun, a true celebration of life and a day to certainly remember for while – at least until next year! Thank you to everybody who was there in support and special thanks to Mike Marshall (Sahara Aalhad Programme Director) who raised the funding required for these events and the Malikranjan Shetty (Sahara Aalhad Program Coordinator), who organised and oversaw the whole event and without whom it could never have happened.
World AIDS Day Rallies
As part of the ongoing events being held as part of World AIDS Day 2007, Sahara Aalhad along with Wake Up Pune and Deep Griha Society took part in a rallies on 5 December in Yerwada and 8 December 2007 at Lohianagar where the Outreach Centres are located. The rallies both lasted for a couple of hours with careworkers, clients and volunteers walking side by side. Participants carryied Wake Up Pune banners in English and Marathi, holding up plaque-cards and chanting 'Wake Up Pune!' as a single voice. The rallies drew large crowds of interested people who were able to read the informative banners and plaque-cards and to see awareness plays presented by DISHA fieldworkers.
1 December 2007
WORLD AIDS DAY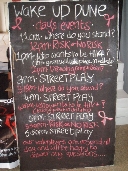 To celebrate World AIDS Day and raise awareness on issues surrounding HIV and AIDS the Wake Up Pune team organised a series of events around the City. An army of volunteers were out and about the week proceeding 1 December, convincing as many venues as possible to display our posters to celebrate the important day.
Cinemas: Inox, Adlabs, E-Square, CityPride and five Hindi cinemas are showing Wake Up Pune slides on HIV/AIDS for at least the month of December to help promote awareness amongst their customers.
Nightclubs & restaurants: Volunteers set up tables at several venues accross Pune on the 29th, 30th and the 1st. They were available to answer questions, hand out red ribbons, condoms, leaflets and information, and display beer mats on all the tables at these venues. Thank you to Toons, the Grand Hotel Beer Garden, Leather Lounge, Soul, Curve and Kiva for making these events possible. Thank you also to Mainland China and Not Just Jazz By The Bay, who displayed our beer mats on their tables.
Shopping Malls: Shops in Nucleus, SGS Mall and INOX gave out awareness leaflets and flyers to shoppers and customers on Saturday 1 December.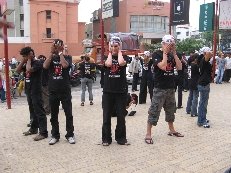 Mariplex Extravaganza (click on the links for more photos): On World AIDS Day itself, Wake Up Pune volunteers – dressed in black t-shirts and striking white bandanas – organised a series of activities at Mariplex mall and inside Gold Adlabs. Mariplex staff showed their support by wearing red ribbons. Shoppers and cinema goers participated in questionnaires, games designed to raise questions about HIV transmission and knowledge. An early Christmas tree provided a space where Puneites dedicated pledges on what they planned to do to raise awareness amongst their friends and family, and a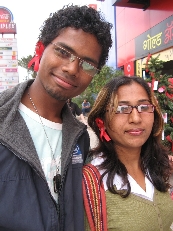 graffiti floor recorded their thoughts and impressions of the events.
Volunteers from the UK together with students from Open Space twice performed a powerful street play on Stigma and Discrimination to an appreciative crowd during the afternoon. Throughout the day shoppers were given fortune cookies containing thought provoking facts about HIV, red ribbons, condom info boxes, information leaflets and butter cookies with the ribbon logo on top! Volunteers also popped down to MG Road during the afternoon to hand out information to shoppers and stall owners. It was a hugely successful day so a big thankyou to Mariplex and all the volunteers from Deep Griha Society, Open Space, Satyam Foundation, Sahara, Sangam Girl Guides, IBM and Samabhavana Society.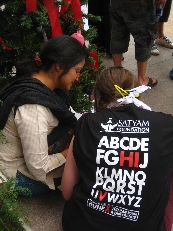 30 November 2007
Coporate Awareness at 3 Global Services
In the run up for World AIDS Day Wake Up Pune held a coporate session with 3 Global services as part of our commitment to increase awareness on HIV and AIDS within this sector.
15-18 November 2007
Child's Eye Film Festival
A series of short films made and produced by children looking at their choice of issues ranging from HIV/AIDS, adolescent issues, working children and the struggle for life. Organised by Plan India in conjunction with Wake Up Pune, Heroes Project and AIESEC, these powerful films were screened over 3 days at the National Film Archives of India, Pune.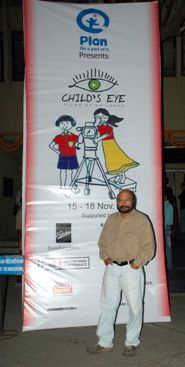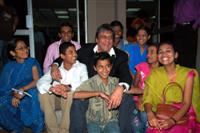 The entrance lobby: Jackie Shroff laughing with some of the young film makers
9 October 2007
The last in a series of Corporate Awareness lectures took place at Zensar technology park in Khoradi
A big "thank you" to everyone who got involved and made the series a success. Thanks also to Bakhul for all her hard work and dedication to the cause.
27 September 2007
'Sex and Sexuality. What do YOU think?' (presented by YAHAAN at Open Space)
· Chance for young people to discuss key issues surrounding sex and sexuality
· Presentation about HIV and AIDS and the epidemic in Pune
· Opportunity to get involved in the Wake Up Pune campaign
19 September 2007
Be HIV Positive – HIV Education session at ILS Law College
Presentation by Hans Billimoria of Deep Griha society on HIV AIDS in Pune, how we can protect ourselves against infection and how to live your life if you are HIV positive. There was a positive response from students at ILS and more than fifty students attended the seminar.
12 September 2007
Bloody Calamity – a presentation on the reality of HIV and AIDS in China
Deep Griha Society (13 Tadiwala Road, Pune)
19 August – 9 September 2007 (consecutive Sunday afternoons)
Doctor's Lecture Series, Aga Khan Palace
No. of doctors attended: 30
The decision to host an HIV lecture series for doctors was taken because it's clear that many doctors are undereducated when it comes to the realities of this virus. The lecture series was an important step towards ensuring that the medical profession has the information that it needs in order to provide adequate treatment for those living with HIV. Many social workers and doctors involved with Wake Up Pune have been taken aback by the misconceptions held by doctors working in Pune, and therefore decided that it was time to dispel the fears and ignorance about HIV amongst the medical profession. We turn to doctors for treatment and advice, yet the discrimination shown by many of those working in the profession results in many people never coming forward for testing. The aim of the series was to change the perceptions of the participants and to ensure that they received the support and guidance they needed to treat people living with HIV.
The lecture series itself was successful. The speakers – including Dr. Prakash Mahajan, Dr. Sachin Melankari, Dr. Kakarani, Dr. Sanjay Pujari and Dr. Gangakhedkar – were inspirational and professional in their approach. They spoke from subjects ranging from immunology, HIV testing and ART, to diagnosis, monitoring and the ethical imperative for role of GPs in controlling the virus. The pre- and post- series evaluation comparison showed a significant difference in the knowledge about HIV/AIDS at every level and there appeared to be a palpable difference in the attitude towards HIV positive patients. Many of the participants were fearful of handling HIV positive patients before the series took place, but after the series this fear had been greatly reduced and there was a positive outlook towards handling positive patients.
There are plans to repeat this series in the near future as the organisers were disappointed with the turnout of the series. Traditionally, those who are trained to treat HIV are regarded as specialists, and therefore most mainstream medical practitioners have little or no knowledge about the virus. Encouraging doctors to take part in the series is challenging, as many doctors do not want to treat such patients. It is important to remember that doctors have pledged to take care of the sick in society, no matter what that sickness may be. Also with the rate of infection in Pune considered to have reached WHO epidemic status, HIV can no longer be considered as a rare infection – it's becoming increasingly common. Our doctors must be equipped to respond in the most appropriate and efficient way.
12 August 2007
International Youth Day Celebrations at ADLABS
To mark International Youth Day, YAHAAN, AIESEC and Rotaract youth groups of Pune joined forces to boldly make the statement that youth can help combat HIV and AIDS in their city! ADLABS was filled with empowered youth spreading awareness about HIV through interactive activities like HIV myth-buster games and quizzes. Street plays, ribbon distribution and HIV resources were also used to spread awareness to youth, who now represent over half of all HIV infections in the world.
11 August 2007
'A Life Less Ordinary' Film Premiere
Wake Up Pune premiered Raabiya Jayaram's documentary, A Life Less Ordinary, at Soul (ABC Farms) on Saturday August 11. The film, shot primarily in Pune, depicts the lives of HIV+ children. It also addresses related issues like government and social barriers to the proper care and treatment of these children including the effects of HIV and AIDS related stigma and discrimination. A panel discussion followed the screening of the film and featured a number of experts in the field of HIV and AIDS in Pune.
20 May 2007
'Light Up Pune'
To mark Global AIDS Action Week, Wake Up Pune organised many events throughout the city, including a special outdoor awareness event at INOX, appearances from the DMAV and a rally from Golibar Maidan to MG Road. Highlight of the day was a stage show and Candlelight Memorial held at MG Road Walking Plaza, witnessed by thousands of onlookers. The show featured dances, musical perfomances, guest speakers and special appearances from Sandeep Acharya and Rehan Khan (winning contestants of Indian Idol and Fame X 2006).