Past Events 2008
18 December 2008
Magna Steyr becomes HIV Positive!
On 18 December, more than 60 Magna Steyr employees attended HIV awareness sessions at their workplace as part of Wake Up Pune's 'HIV Positive' campaign. The HIV awareness sessions cover general HIV information, such as modes of transmission, symptoms and treatment, and the issues of silence, stigma and discrimination that surround HIV. Participants also discussed how the silence and ignorance about HIV in India leads to fear, resulting in the stigma and discrimination experienced by people living with HIV in this country.
Magna Steyr employees really enjoyed the sessions and were enthusiastic about Wake Up Pune conducting further sessions with them. Additional awareness sessions involve learning about sex, sexuality and safe sex.
Wake Up Pune's 'HIV Positive' campaign is aimed at making Pune an 'HIV Positive' city. So what do we mean when we say 'HIV Positive'? We mean positive about education, educating yourself and others about HIV, positive about awareness, spreading what you have learnt about HIV, and positive about support, supporting people living with or affected by HIV.
Follow Magna Steyr's example and add your company to the growing number of HIV Positive establishments and organisations in Pune.
For more information contact Katy Chadwick at info@wakeuppune.org.
Take the lead. Educate your employees. Be HIV Positive.
6 December 2008
'Rock with Agnee': Wake Up Pune's WORLD AIDS DAY event
"Namaskaar Pune!" Avinash began Wake Up Pune's rock concert at BJ Medical Grounds to mark World AIDS Day. MCs Avinash Chakranarayan and Radio City's Juhi introduced the show by discussing what it means to be 'HIV Positive': positive about Education, Awareness and Support. The first performance of the evening was by dancers from MK Studio, showing the crowd what happens with HIV in our city, and how together we as a city can end the cycle of stigma and discrimination.
Despite the event being postponed by 5 days, by the time the dance was over the crowd was already a few thousand strong. '9', the winning band from Wake Up Pune's 'Join the Fight: Battle of the Bands' competition put on a great show. Their original Hindi tunes and youthful enthusiasm really got the crowd going.
Following 9's set, Amit McCann from Cerillion and the boys from FreakBAY Media and Entertainment took the stage to launch the HIV Positive CD. They told the crowd of the importance of getting tested and knowing one's HIV status regardless of whether you are from a corporate, in college; whether you live in a palace or in a slum; whether you are rich or poor, educated or illiterate. Thousands in the audience responded to the FreakBAY team's call out by screaming "GET TESTED!"
The enthusiasm of the crowd continued to build as Agnee came on stage. The band rocked for 2 hours with singer Mohan stepping off stage to sing with the thousands of excited fans. The end of the night saw all the hard-working Wake Up Pune volunteers and Jenny McCann from the World AIDS Campaign get up on stage to take a bow.
Unfortunate circumstances saw the planned HIV Expo cancelled despite a huge amount of hard work by Wake Up Pune volunteers and the organisations schduled to take part. However, at the end of Saturday night there were a lot of very happy faces and hopefully many young Puneites went home more educated, aware and 'HIV Positive' than when they arrived.
Special thanks to all the Wake Up Pune volunteers and partners, the World AIDS Campaign, and Jenny McCann. Without all your help this could never have happened. GREAT JOB GUYS!
18, 27 November 2008
'Be Positive' film festival hits screens around Pune
On Tuesday 18 November, Open Space (a Wake Up Pune partner) held the first screening in Pune of the 'Be Positive' film festival at MIT School of Government. Students were shown four short films about HIV: Migration directed by Mira Nair; Blood Brothers by Vishal Bhardwaj; Parambha by Santosh Sivan; and Farhan Akhtar's Positive. The films were followed by a short documentary about people living with HIV, filmed in West Bengal.
Following the 5 films, students got a chance discuss what they had seen and the issues that had been raised. Hans Billimoria facilitated a heated discussion and students were treated to a short impromptu HIV awareness session which they enthusiastically participated in.
Symbiosis College of Arts and Commerce hosted the second showing of the festival on 27 November. It was a common observation by students at both colleges that most of the short films shown dealt with the issues of HIV in quite a negative manner. Of the four short films, it was agreed that Vishal Bhardwaj's Blood Brothers was the only one which was positive about HIV. The others – while opening up dialogue about HIV – ultimately reinforced existing stereotypes and misconceptions surrounding the virus.
The 'Be Positive' film festival will be screened again Tuesday 13 January at St. Mira's College for another 80 students. Screenings will be from 11am to 1pm.
15 November 2008
"Wake Up Pune – In Your Face" @ INOX
On 15th November '08, Wake Up Pune volunteers organised a series of activities at Inox Cinemaplex. Moviegoers participated in quizzes and games designed to raise questions about HIV transmission and knowledge. Puneites were shocked when they discovered that Pune's HIV prevalence rate is almost twice the epidemic mark! Throughout the day volunteers from Deep Griha Society, Satyam Foundation & AIESEC gave out red ribbons and information leaflets. The graffiti floor was filled with pledges of support for people living with HIV. Several people approached the WUP kiosk to get more information about HIV/ AIDS and we had several people signing up to be volunteers for future events. It was a hugely successful day so a big thank you to Inox and all the volunteers from Deep Griha Society, Satyam Foundation and AIESEC.
9, 22 October 2008
Join The Fight: Battle of the Bands
Two events into Join the Fight: Battle of the Bands and the competition is heating up! Wake Up Pune's first show at Not Just Jazz by the Bay on 9 October was a huge hit. Pune's very own Bun Maska Chai and Beach Dogs battled it out on stage before a sea of red ribbons and HIV Positive t-shirts.
Beharam Sidhwa (FreakBay co-founder turned JTF's official MC) stirred up the enthusiastic crowd and even managed to get a few laughs. Both bands played great sets and the crowd loved every minute of it. Wake Up Pune official spokesperson Hans Billimoria gave a short but emotive and inspirational HIV information session. Following sets by both bands, the votes were counted. Beach Dogs were going to the semis!
The second event was postponed due to the Commonwealth Youth Games but nevertheless managed to draw a big crowd on the revised date of 22 October. was packed with supporters all wearing their red ribbon on their sleeve and again many in the legendary HIV Positive t-shirts. Last-minute entrants Ledge (13) had their work cut out for them against Hindi band Nine. The latter was clearly the crowd favourite and came out on top to go through to the semis. 'Dr.' Taronish Irani roused the crowd with his HIV awareness session between bands. Hecklers, along with the rest of the crowd, were informed – in no uncertain terms – of the importance of wearing a condom and being tested for HIV.
The crowd at Soul was treated to a very special show when guest judge and international drumming icon Pedro Marambio showed his true colours on the drum kit provided by Furtados. The awestruck audience gave Pedro a standing ovation at the end of an amazing solo.
Join The Fight has thus far been a huge success. Don't miss the rest of the events! Check out the Upcoming Events page for details about the remaining gigs.
21 September 2008
Condom Cricket Grand Final at BJ Medical College Grounds

Sunday 21 September saw the Grand Final of the Condom Cricket Tournament, contested at BJ Medical College Grounds, Pune. The final was the climax of the tournament which began on 7 September with 32 college teams originally taking part.
The rules of Condom Cricket are exactly the same as a normal game of cricket, but the sport acts as a metaphor for the way in which HIV infects the human body. The batting team represents the immune system of protecting the human body, while the fielding team represents HIV and other illnesses trying to infect the human body. The game is overseen by two umpires who represent doctors checking whether the virus has infected the body. The aim of the game is bring people together to watch some good cricket whilst providing a forum for open dialogue about HIV and condom use.
The semi-finals were 10-overs-a-side: Bharati Vidyapeeth (BVP) Ayurved defeated Rangoonwala Dental College, while Indira College of Business Studies were beaten by the Armed Forces Medical College (AFMC).
After a thrilling 12-overs-a-side final, AFMC emerged as champions of the Condom Cricket Tournament 2008. Underlining their dominance, both the Man of the Match and the Man of the Series trophies were also won by AFMC players. BVP Ayurved walked away with the runner-up trophy and a token cash prize. All in all, it was an exciting final, with some lively cheerleading by the kids from Deep Griha Society, joined by an ice-cream seller and an enterprising samosa salesman.
The guests of honour were Dr. (Mrs.) Nirmala Borade (Dean of BJ Medical College), Claudia Ahumada and Edwin Nichols (from the World AIDS Campaign), and Amit McCann (Operations Manager of Cerillion India).
30 August 2008
BJ Medical College hosts the launch of Condom Cricket Tournament
Students, lecturers, press representatives and volunteers gathered at BJ Medical College for the drawing of fixtures for the upcoming Condom Cricket Tournament. BJMC Sports Advisor Dr Sachin Wankhede explained the concept of Condom Cricket and discussed the issue of HIV in Pune.
The names of the teams, inserted into inflated condoms, were drawn by the dignitaries on the panel to cheers from the crowd of students who had gathered in the BJMC Reading Room. After the lots were drawn all members of the panel spoke passionately about importance of breaking the silence and discrimination that surrounds HIV. They talked about the danger of silence and ignorance of HIV and how it leads to stigma and discrimination, invoking Wake Up Pune's own 'stigma chakra'.
The event was wrapped up by a dance performed by our own talented Wake Up Pune volunteers to the catchy 'HIV Positive' song. It was an entertaining morning and an exciting start to the massive campaign Wake Up Pune has planned in the lead up to World AIDS Day on 1 December 2008…
24 August 2008
Red Ribbon Express visits Pune
Sunday 24 August saw the Red Ribbon Express arrive into Khadki station – and Wake Up Pune representatives were there to greet it. The train's bright yellow carriages contain an interactive exhibition on HIV/AIDS and related issues. One carriage is dedicated to training.
Wake Up Pune team members went to to Khadki station armed with the Wake Up Pune newsletter (in Marathi and English) and information leaflets, eager to answer any questions thrown their way. A considerable crowd was treated to a street theatre performance from the DISHA team exploring the issues of HIV/AIDS, which went down a storm. A giant inflatable walking condom was a major attraction, getting the crowd thinking about condom use while people were eager to have their picture taken with it.
The Red Ribbon Express began its epic journey from New Delhi on 1 December 2007 (World AIDS Day). The train will return to New Delhi for 1 December this year, having chugged its way through 24 states, 180 railway stations and covering an incredible 27,000 kilometres spreading awareness about HIV/AIDS across India.
17 July 2008
Corporate awareness session at Syntel
Syntel became the latest 'HIV Positive' corporation. More than 60 staff members took part in the workshop to learn the real facts about HIV. Syntel is a global corporation that has been running for more than 25 years helping its Global 2000 customers to remain at the forefront of their industries through the use of innovative technology.
This session destroyed the damaging myths that surround HIV and hit out against the culture of silence behind which the virus hides. The employees learnt that whoever they are, whatever their profession or political views they make choices everyday that can help them to become more 'HIV positive'. Whether it be to have protected sex with their partner, to share food and drinks with an HIV positive friend or simply to discuss the issue openly with their friends and family. We all have a responsibility to fight against the stigma and discrimination surrounding the virus, as it is increasingly the reaction from society that brings a premature end to the lives of those living with HIV. The employees rose to the challenge by becoming active members of the 'HIV Positive' T-shirt campaign which is part of making Pune an 'HIV Positive' city – positive about education, positive about awareness and positive about support.
It is that easy to JOIN THE FIGHT! To organise sessions at your place of work, please contact us.
12 and 16 July 2008
Wake Up Pune at the cinema
On 12 and 16 July volunteers from Wake Up Pune donned their HIV POSITIVE T-shirts and headed out to INOX. To the background of pumping Bollywood songs, volunteers approached young people telling them about the next HIV Bootcamp scheduled on 3 and 10 August. Following the popularity of the last HIV Bootcamp in June this year, the 3 proposed projects for 'Hand me the Handicam', 'Disruptive Theatre' and 'Spoken Word and Creative Spirit' attracted the interest of lots of young people keen to be involved in getting the HIV Positive message out into the community. After a few hours Wake Up Pune had over a hundred people signed up!
There will be more HIV Bootcamps in September, November, December and January. If you are interested in signing up please email hivbootcamp@gmail.com.
28 June 2008
Launch of Postive Connections, the Wake Up Pune newsletter


Wake Up Pune took over the 69 Restaurant on Saturday 28 June to celebrate the launch of our first newsletter, POSITIVE CONNECTIONS. (Download here.)
"Do You 69 Safely?" was the theme of the day, as Wake Up Pune and the 69 restaurant collaborated to spread the HIV POSITIVE message and educate people about HIV/AIDS and safe sex methods. Banners and posters plastered the restaurant, catching the attention of the many people walking past. They came in to learn more about HIV/AIDS and how it affects their lives. They read a creative, informative scrapbook and were tested on their knowledge in a Wheel of Fortune game where they could win a free condom.
There were also educational pamphlets about safe oral sex and flyers advertising Wake Up Pune's next HIV BOOTCAMP to train volunteers.
In the eveving the party really started, kicking off with live music from the band 'H.I.V.' The newsletter was officially released, in both English and Farsi (Persian), by Arsh, AVA's lead singer and a prominent member of the Iranian community. The night came to an end as the band AVA treated the 69 audience to their Iranian Sufi music.
14-15 June 2008
HIV BOOTCAMP trains new army of campaigners
The weekend of 14–15 June saw the first of Wake Up Pune's HIV BOOTCAMPS.
These 2-day workshops are designed to give young people the knowledge and skills to set up their own HIV/AIDS awareness projects with friends or colleagues and become part of the Wake Up Pune movement.
HIV BOOTCAMP saw young people increase their knowledge through HIV/AIDS awareness and Sex and Sexuality sessions. This knowledge was put into action as Bootcampers were trained in:
• Street theatre – how to disrupt the public and make an impact;
• Dance – putting the HIV message to a beat; and
• Advocacy – what is it and how you can become a campaigner.
HIV BOOTCAMP saw the launch of 'The Handycam Project.' An assignment that sees young people picking up a Handycam, supplied by Wake Up Pune, and filming their experiences of HIV/AIDS in Pune. The project is open – you can script the film or just let the camera roll on real life. 'The Handycam Project' was launched at HIV BOOTCAMP with an audiovisual tutorial from Freak, the popular Pune-based youth magazine and website (www.freakbay.org).
BOOTCAMPERS left as part of the Wake Up Pune movement (with certificates to prove it), wearing 'HIV Positive' T-shirts and armed with projects they had designed and were ready to start! Campaigners are supported by the Wake Up Pune team and have access to the Google forum to set up projects with other volunteers. Check out http://www.groups.google.com/group/wakeuppune… Sign up and get involved!
If you are interested in attending our next HIV BOOTCAMP (to be conducted on 3 and 10 August) please email HIVBootcamp@gmail.com to book your place!
18-25 May 2008
Global AIDS Week of Action
On 18 May, Wake Up Pune kicked off the local celebration of the Global AIDS Week of Action (GAWA), a week of activities and events with the aim of spreading positive attitudes about HIV/AIDS education and awareness, and increasing support for those living with HIV. Wake Up Pune arranged many different events during the week. Highlights included:
Rallies, stage show and candlelight vigil @ MG Road Walking Plaza
"Aaiye, poori duniya ke saath sur mein sur milakar gayein… HIV positive logon ke saath haath se haath milaakar chalein." [Let's all come together and join hands with people living with HIV.]
That was the message delivered by Indian Idol winner Abhijeet Sawant to a crowd of thousands assembled at MG Road Walking Plaza on the evening of 25 May, gathered for a rally, a stage show and a candlelight vigil organised by the Wake Up Pune HIV/AIDS awareness campaign to show support for those living with and affected by HIV.
For a full description, please see this news story.
Awareness Day @ INOX Cineplex
On Sunday May 18, young people from PUMBA, Satyam Foundation, ILS Law College, Deep Griha Society and AIESEC joined forces to help the Wake Up Pune campaign spread awareness about HIV and AIDS at INOX. Boldly wearing HIV Positive T-shirts, these young volunteers took a stance against HIV stigma and discrimination to convey Wake Up Pune's primary message: Be HIV Positive.
• Positive about educating ourselves about HIV
• Positive about spreading awareness about HIV
• Positive about supporting people living with and affected by HIV
Through performances, handouts, and interactive games and quizzes, the truth about HIV transmission and prevention was given to the INOX public. HIV myths and misconceptions were also challenged. Live performances by Scottish band Herman Dealth Willy Tail (see below) got the crowd dancing, and the street play 'The Stigma Chakra' vividly portrayed how silence, ignorance, fear, stigma and discrimination further the spread of HIV in Pune. Hundreds of moviegoers showed their support toward people living with HIV and signed the giant '…Pass the Bill' banner, demanding the passing of the parliamentary HIV and AIDS Bill to protect the rights of HIV positive people in India. The day culminated with a candlelight vigil and a moment of silence to honour the memory of the more than 25 million people who have died of AIDS related illnesses. Thousands of people received the message, and many signed up to volunteer in future for the Wake Up Pune campaign. Join the Fight today!
Herman Death Willy Tail (Scottish folk band) performing at various venues in Pune
Herman Death Willy Tail (a name chosen by randomly picking words out of a magazine) are Daniel Saulite (vocals and lead guitar), Chris Peebles (vocals and guitar) and Rory McGee (on the djembe). On a visit from their native Scotland, the band decided to fully support the campaign.
On Friday 16 May, the band performed at High Spirits (a popular club in Koregaon Park) to an audience of about 100. They also sang, for the first time in public, a song entitled Be HIV Positive, which they wrote especially for the Wake Up Pune campaign's new project – Pune: An HIV Positive City.
Chris also gave a great solo rendition of Bob Marley's No Woman No Cry to highlight how women have become the new face of HIV, constituting 40% of the 2.5 million people living with HIV in India.
The boys also performed Be HIV Positive at the INOX cineplex on 18 May as part of the International Candlelight Memorial Day Celebrations.
Their next performance was at Soul, ABC Farms, on Friday 23 May, where once again, they performed original material including Be HIV Positive. This time, the lyrics were projected onto a huge screen so everyone could join in. As Chris sang No Woman No Cry a slide presentation ran in the background provoking people to imagine a world without women or children.
19 April 2008
Launch of 69 restaurant
'69', a newly opened health-conscious restaurant, located on Dhole Patil Road, became one of Pune's first HIV Positive restaurants on Saturday 19 April.
Saturday saw the grand opening of 69, kicking off at 11am onwards and resulting in a great turnout of people throughout the day. The staff at 69 were all 'red-ribboned', and at the end of each meal, each customer was given a card with Wake Up Pune information on awareness, testing, volunteering and making donations. The Wake Up Pune team set up a desk at the restaurant and were available all day to answer questions from customers.
At 7pm, Neelu Punn Kale, from Heroes Project (one of the Wake Up Pune partner organisations) awarded Ashtad Dadachanji, Head Chef at 69 (and a long-time WUP supporter), with the HIV Positive certificate, which now hangs proudly on the wall at 69. Mr Dadachanji then said a few words, pledging his support to the cause.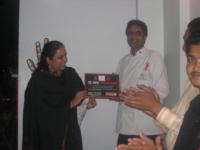 29 March 2008
HIV/ AIDS Awareness event at Indiabulls Megamart
On 29th March, Wake Up Pune volunteers organised a series of activities at the Indiabulls Megamart on MG Road. Indiabulls staff showed their support by wearing red ribbons, while short films and PSAs about HIV/AIDS were shown on all the LCD display monitors at the store. Shoppers participated in quizzes and games designed to raise questions about HIV transmission and knowledge. Winners of the quiz walked away with exciting prizes: Wake Up Pune bandanas! There were a lot of entries for the Slogan Writing & 'Guess How Many Ribbons?' contests.
Students from PUMBA together with volunteers from Deep Griha Society and Satyam Foundation performed a powerful street play on Stigma and Discrimination. Throughout the evening shoppers were given red ribbons and information leaflets, and several shoppers approached the WUP kiosk to get more information about HIV/ AIDS. It was a hugely successful day so a big thank you to Indiabulls Megamart and all the volunteers from Deep Griha Society, Satyam Foundation and PUMBA.
India's first eMagazine Freak was officially launched on Sunday, and Wake Up Pune was there to join in on the action. WUP's presense was certainly felt: banners were hung all over the outdoor concert venue, as reknowned DJ Ma Faiza took to the stage. Our crew of loyal volunteers were out again, and had just about everyone at the event wearing a red ribbon in support of people living with HIV. From the security guards to the bar staff, the DJs to the sea of dancing ravers, the ribbon was worn with pride.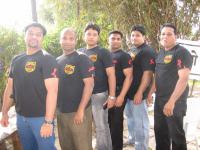 This was a great event for Wake Up Pune, giving us visibility with a young group that is very important to reach. Many thanks to the organizers of FREAKUENCY for this opportunity, and for throwing such a great launch party!
28 February 2008
Innovision '08 at Rajarshi Shahu College of Engineering
Armed with new materials, and a brand new quiz, Wake Up Pune took its travelling roadshow out this week to be a part of RSCE's annual festival. Our new quiz elicited many good questions about HIV, which is exactly what we hoped for. For real awareness about HIV to increase, people must be not afraid to ask questions, and not afraid of not knowing; Innovision's attendees were certainly up to the task.
15 March 2008
HIV/AIDS Awareness Campaign in Modern College
A kiosk on HIV/AIDS awareness was set up at Modern College of Engineering, Shivaji Nagar. The kiosk team conducted HIV/AIDS quizzes, games such as 'Risk- No Risk', 'Guess How Many Ribbons' and orgainised poster-making and slogan-writing competitions. Information was disseminated through leaflet and flyer distribution. There were 2 volunteers from DGS, 7 volunteers from Satyam Foundation and 3 volunteers from Yahaan. We were able to gather a great crowd during the lunch break and also once lectures for the day were over.
Although it was just a half day event, we managed to reach around 100 youngsters through this kiosk. The quizzes brought to the fore a very important issue: a majority of the students were unaware of the difference between Oral Sex and Kissing. However, the volunteers were able to explain the difference to most of the participants. We received a very good response for the poster competition, with more than 20 youngsters taking part. The focused group discussions on HIV/AIDS were also successful. Many young adults walked away knowing a little more than when they arrived in college that morning.
8 March 2008
PUMBA FestHIVal '08
On Saturday 8 March, Wake Up Pune teamed up with the students of PUMBA. (Pune University's MBA school) for FestHIVal '08. The day long event at the PUMBA campus was kicked off with the quarter finals of the Condom Cricket Tournament. The 8 teams participating were from different University departmentsincluding a faculty team from PUMBA. Satyam Computers also fielded a team, as did students from the Deep Griha/Satyam IT School.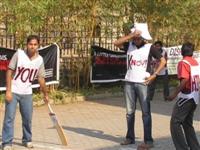 Once the quarter finals were over, everyone moved to the PUMBA. auditorium, where we had a simple lamp lighting ceremony, following which Wake Up Pune awarded PUMBA a "PUMBA is HIV POSITIVE" certificate.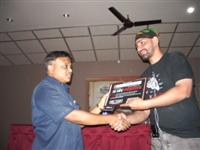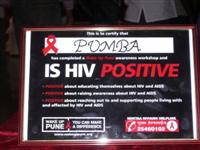 Then Hans Billimoria (from Deep Griha Society) conducted a presentation attended by over 250 people. This presentation focused on spreading awareness and knowledge about HIV/AIDS in the city, and especially discussed issues of stigma and discrimination, and how youth could contribute to the fight.
This was followed by the semi-finals of the Condom Cricket Tournament, which drew quite a crowd, since the faculty of PUMBA were taking part.
Next on the agenda was the Sex & Sexuality seminar to be conducted for a total of 30 participants in two rooms each. However, the success of the day was highlighted by the spillover of participants into a third seminar. This third session was conducted by the DISHA team in Hindi for participants who had difficulties with English.
All day, there was a Wake Up Pune kiosk at the main entrance to the PUMBA building, conducting activities even while the cricket matches, presentation and seminars were taking place. Activities included HIV quizzes, HIV games, HIV poster- and slogan- competitions, with the winners walking away with Wake Up Pune bandanas. The kiosk also distributed information booklets and awareness pamphlets. Several people signed up to be volunteers for future events.
In all, about 350 people attended this day long FestHIVal at PUMBA, which culminated in the Condom Cricket Finals. Fittingly, the students of PUMBA were the winners of the Inaugural Condom Cricket Trophy.
4, 6, 7 Match 2008
'Taking The Wheel' launch
In its first week at all three sites (Market Yard, Wagholi and Shiru