WORLD AIDS DAY – 1st December 2012
Thank you to everyone who contributed towards this year's World AIDS Day Rally and Kirloskar Drive on the 1st of December! The rally was well received by the public and we raised plenty of awareness about HIV and AIDS, especially on awareness, support and education. Again, the rally was based on  'Getting to Zero'. Zero new HIV infections, zero discrimination and zero AIDS-related deaths.
The marched started at Cafe Good Luck in Deccan at 9:00 AM and finished at 11:00 AM at Modern College of Art, Science and Commerce. There was about 300 people involved in the march and had other NGOs from Pune.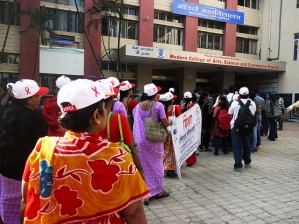 The DISHA ladies making their way inside Modern College
Pictures from the event can be found on our Flickr page:- http://www.flickr.com/photos/deepgriha/sets/72157632169455042/with/8244289250/